Appearance
Golden Ratio Asymmetric Design
The controller adopts asymmetrical design, and the LCD screen is located at the golden section, with a harmonious proportion and beautiful appearance. It' s natural to put it anywhere in your home or in RVs.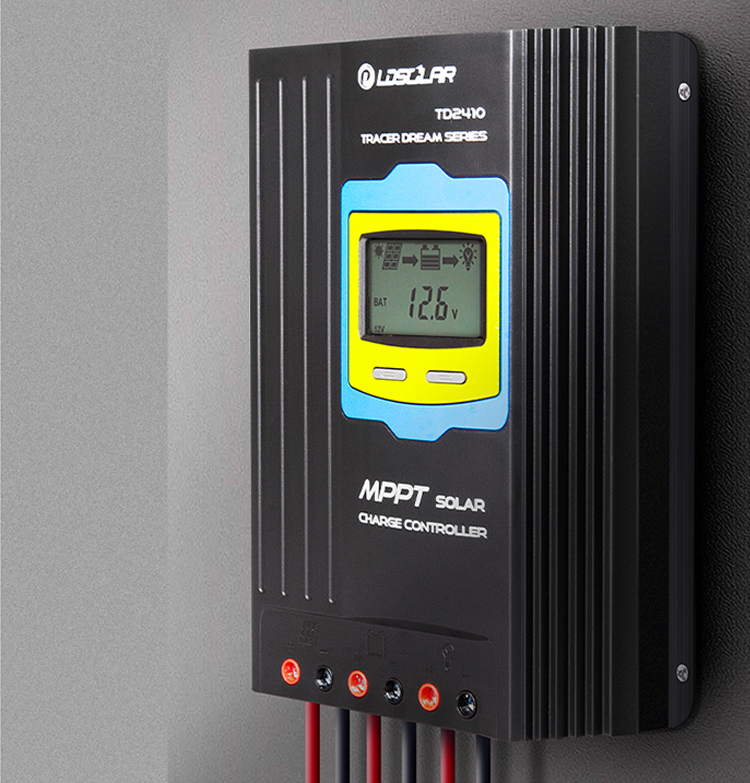 USB
Free USB Charging
Support the maximum 1A charging current, charge your mobile device faster 20A , 30A with 1 USB port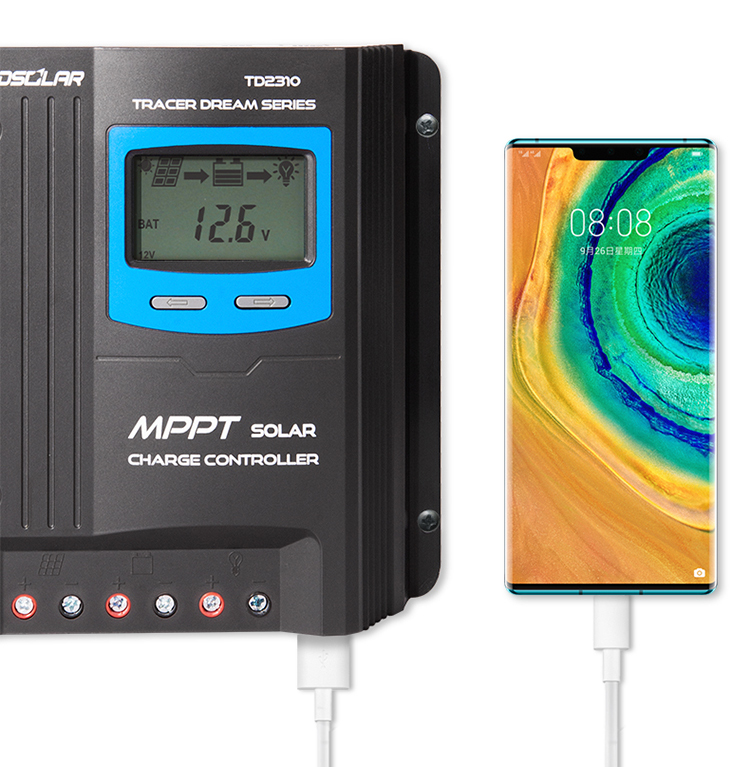 Main control chip
ARM architecture, high-quality 32-bit main control chip, improve charging efficiency comprehensively.
Make your system more stable and efficient, the main control chip adopts Stmicroelectronics, and the other components adopt Samsung and Fenghua Hi-tech components to ensure the stability and life of the controller.
The running program of the upgradeable frame structure guarantees the low loss of the controller and makes it more efficient.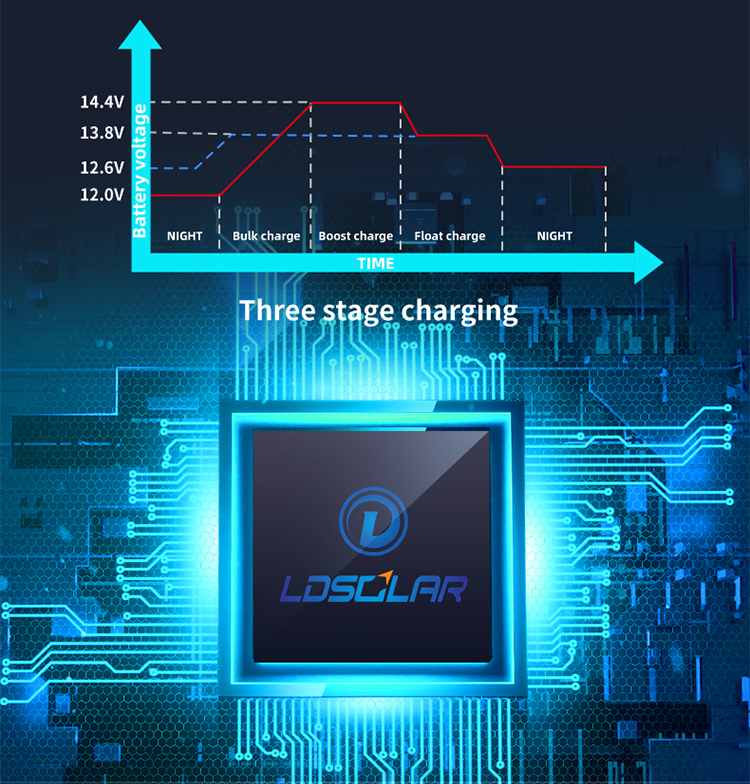 Efficient

High Tracking Accuracy
High Conversion Efficiency
TD series controllers use the latest MPPT algorithm to improve tracking efficiency and speed, reduce energy It can improve the utilization ratio of PWM controller by 20% to 30%.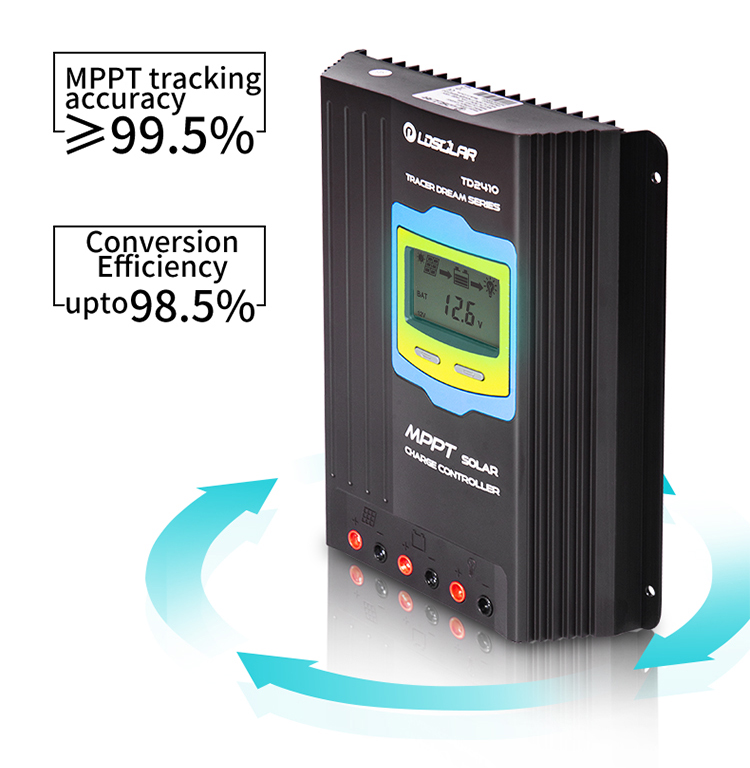 Heat dissipation
Distinctive heat
dissipation character
This time, we also made a brand-new upgrade design for the TD100V series heat dissipation system, and the back MOS tubes are evenly distributed.
While ensuring a stylish and simple appearance, the heat dissipationis further improved.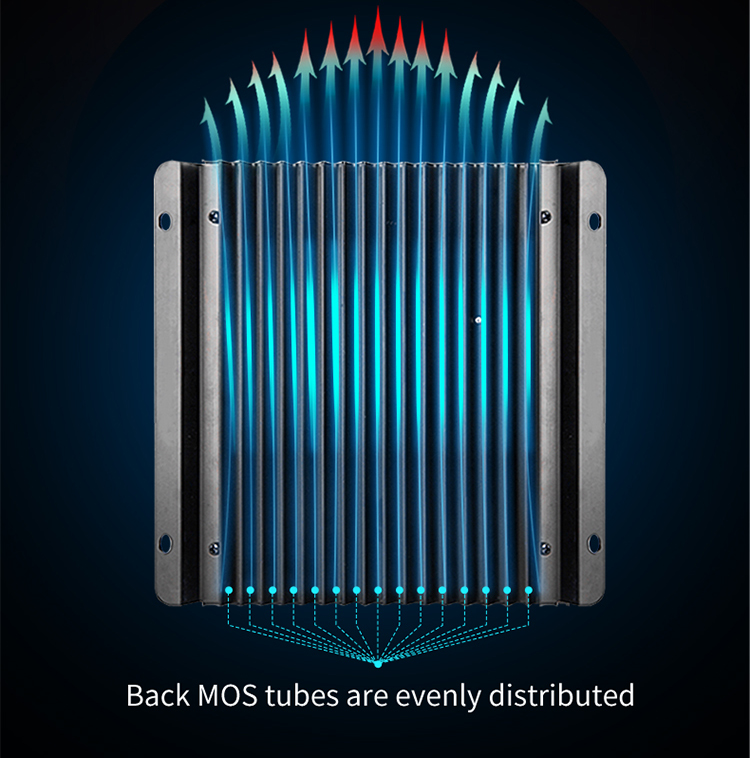 Protect
Power Limited Protection
When the power of solar charging exceeds the rated power of the controller, Ldsolar controller will limit the input power, and work at the rated power of controller without damaging the controller.
In the system that the MPPT controller of Ldsolar is installed, the power of solar panel can be more than the rated power of controller. But cannot exceed 2 times.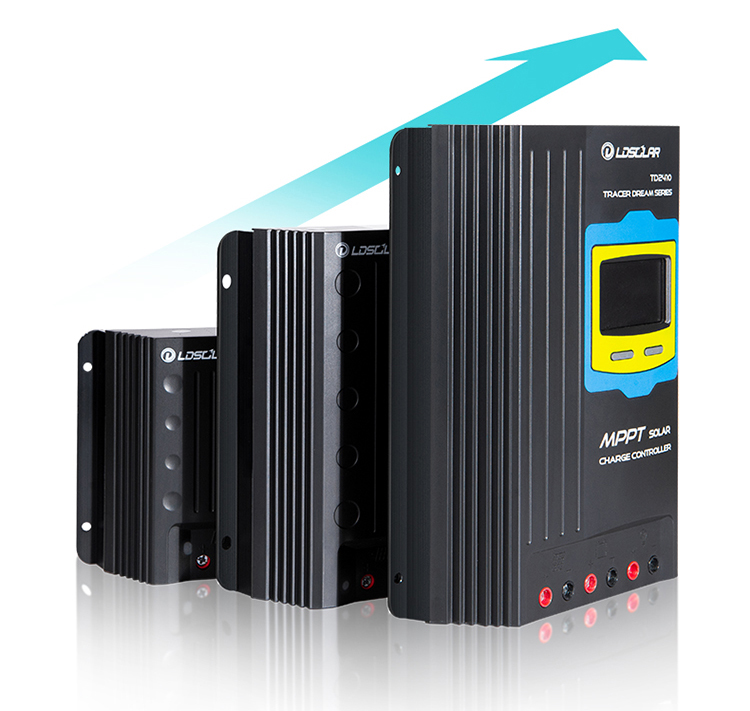 Application
Support lithium battery, start from solar
Application is wider, especially in many fields such as lithium battery systems, RVS , communication base stations, etc.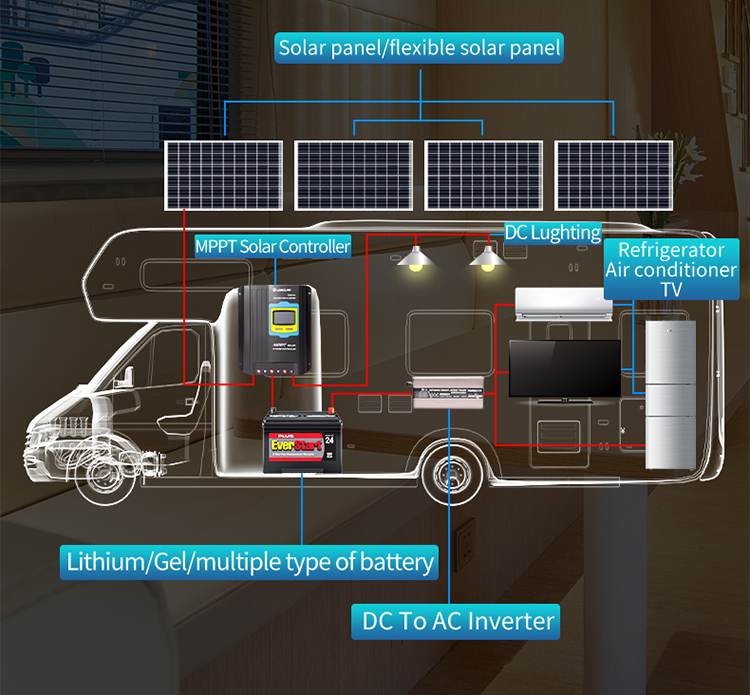 Fast Tracking
Good Low Light
Fast Trackin
Under low light conditions, Ldsolar controller can still track to the MPP quickly.
In the case of light changes during the day, It can track in time and accurately.
It can achieve good balance between low disturbance amplitude and quick response and also can identify the MPP in the case of multiple peaks.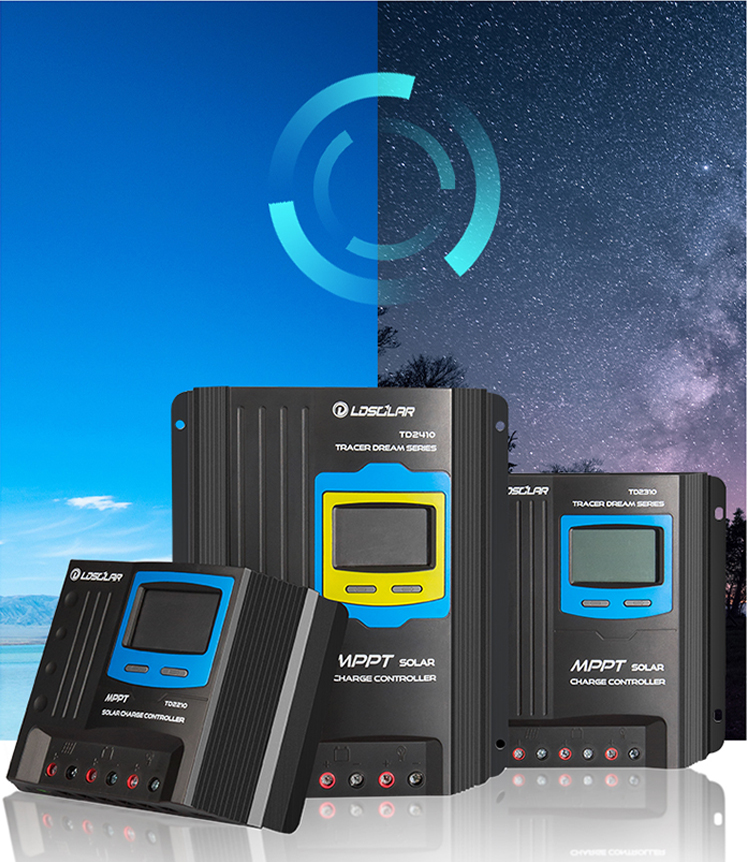 Model

TD2210TU

TD2310TU

TD2410TU

System Voltage
12V/24V DC auto
Working voltage range
8~32V
Max.PV open circuit voltage
100V(Min.working temperature)95V(25℃)
MPPT voltage range
(Battery voltage+2V)~75V
Discharge circuit voltage drop
≤0.25V
Self-consumption
<23mA
Rated charge current
20A
30A
40A
Rated discharge current
20A
30A
40A
Max.PV input power

260W/12V

520W/24V

390W/12V

780W/24V

520W/12V

1040W/24V

Grounding
Common positive
Battery type
Sealed(Default)/Gel/Flood/Lithium
LVD※*
11.0V ADJ 9V...12V ; x2/24V ; x4/48V
LVR※*
12.6V ADJ 11V...13.5V ;x2/24V ; x4/48V
Float Voltage※*
13.8V ADJ 13V... 15V ; x2/24V ; M/48V
Boost Voltage※*
14.4V ADJ 13V...17V ;x2/24 ; x4/48V
battery voltage less than 12.6v auto boost 2hours
Battery Over Voltage Protection
16.5V ; x2/24V ; x4/48V
USB Output
5VDC/1A 1个
Temperature Consumption#
For 12Vsystem:-24mV /°C ;x2/24V ; x4/48V
RS485 interface
Optional
Relative humidity
≤95%, N.C.
WorkingTemperature
-20°C~+50°C℃(Product can work continuously at full load)
LCD temperature range
-20°C~+70°C
Waterproof grade
IP32
Mounting hole size
Φ5mm
Terminals
10mm²/8AWG
16mm²/6AWG
25mm²/4AWG
Weight
0.87Kg
1.2Kg
1.7Kg
Overall dimension(mm)
200*127*54mm
195*183*54mm
232.5*200.1*54mm
Tracer Dream 100V Series MPPT Solar Charge Controller Data Download>>